After dipping three times on Spectacled Warblers in the past in the UK, when news broke of a male singing in Norfolk yesterday afternoon, the 8th UK record, Doreen and myself woke early and a quick reference to RBA confirmed that it was still present at 4.30 am this morning. We left at 5.45 am and as we approached Swaffham at 8.10 am, bad news came on the pager that the Warbler was watched flying away across the nearby salt marsh and lost to view. Was this going to be my fourth dip.
We continued the drive to the Burnham Overy Staithe car park and several birders had already returned back to the car park with no further sightings. As we were pondering our best course of action, the pager than informed us that it had again be seen back in its usual area. We now had a 50 minute walk to reach the sand dunes where the bird had last been seen. On our arrival around 10.30 am, there were around 60 other birders there, but sadly no further sign of the warbler.
After an hour of searching, I was looking into a small clump of bushes, when I suddenly noticed the Spectacled Warbler flying past me and dropped into these bushes. I quickly alerted nearby birders and within a minute, I was surrounded by other birders only for the warbler to fly again and land in a bush some 20 yards away. It then moved into more bushes nearby and out of sight. After several minutes it then called on two occasions and I then picked it out low down in a suaeda type bush and it came right out on a bare patch on the ground some 15 yards from me giving excellent but brief views and would appear to be an adult male in full summer plumage. Superb. During the next hour it showed several times in flight and gave both Doreen and myself two other good views. We never heard it singing even thou the pager claimed it was singing. Another 30 minutes went by without any further sightings and we started the long walk back to our car for our drive home.
Not only did we see a superb bird albeit skulking, we also met up with a number of previous Beachy/Sussex regulars from the 70's and 80's including Dickie Porter, Tony Prater and Pete Clement all who now live in this area, allowing us to have a pleasant social chat.
The following birds were also seen here by ourselves:
Little Egret 8
Spoonbill 1
Little Tern 10
Cuckoo 1 calling
Bearded Tit 1
Spectacled Warbler 1 male in full breeding plumage - Noticeably smaller shorter tailed than a Whitethroat, with a faster direct flight, lovely smooth grey head with very striking black lores, extending below the eye, almost puffed out large whitethroat, with a fine pinkish hue to the pale underparts and distinctive bold rufous wings. Tail had striking white outer-tails when seen on the ground. In flight appeared much smaller and shorter tailed than a Whitethroat.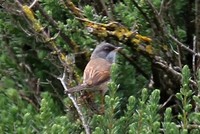 Male Spectacled Warbler at Burnham Overy Staithe
(taken by Paul Bishop)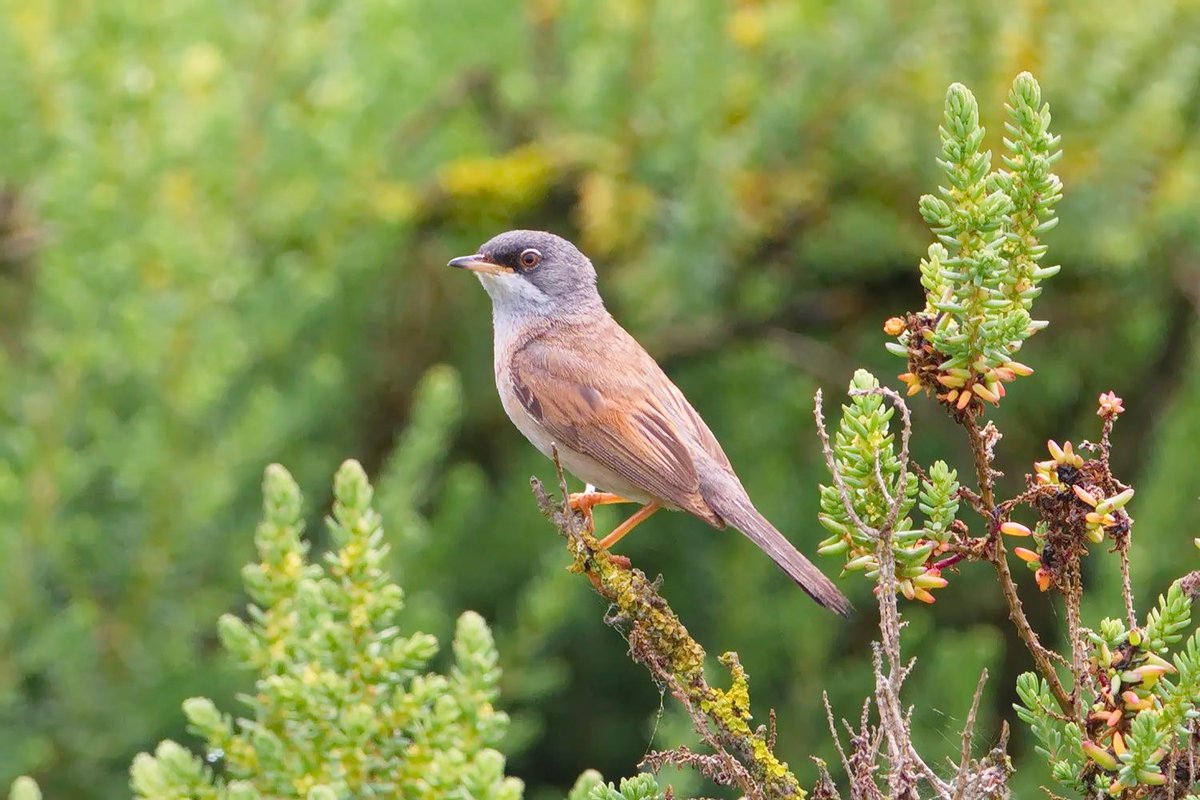 (taken by Paul Rowe)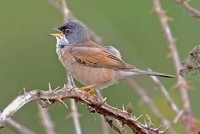 (taken by David Carr)
Male Spectacled Warbler at Burnham Overy Staithe
This evening, David telephoned that he had just found a Black Kite over at Rodmell and was heading towards Beddingham. We quickly drove to Beddingham and Matt was already there and was watching the Black Kite which was now over Mt. Caburn. We watched it for some 20 minutes in fading light and it appeared to go to roost. Hopefully a picture will follow.
Today really did illustrates the highs and lows of twitching.
Black Kite over Mt Caburn taken at 8.30 pm
with heavy wing and tail moult.